Go To Birth Chart Calculator Now
Go To "How To Use The Birth Chart Calculator"
Go To "How To Read Your Chart"
How To Use The Birth Chart Calculator
This calculator uses a 24-hour clock. If your birth time is after noon, be sure to convert the time by adding 12 hours. For example, if you were born at 2:56 p.m., you would add 2:56 + 12 = 14:56 and then enter 14:56 in the "Time of Birth" section of the birth chart calculator.
The calculator is designed to work in all browsers and with all mobile devices. If you get an error message at any time, be sure to clear your cache and check your settings. For questions, contact your device's manufacturer.
Print or save your chart by right clicking on it after it appears and following the instructions in the drop-down menu that comes up after you right click.
How to Read Your Chart
After you fill in your birth details, your birth chart will appear and will look like this:

Simply scroll over the different symbols: as your cursor hovers over a symbol, you will see the data in the little yellow box above your chart change:
To learn more about the sign, planet, or house listed in the little box, just click the symbol your cursor is on, and the little box will expand to give you a detailed explanation:
When you've finished with that symbol, click the orange triangle at the top right of the information box (or click the orange "reduce" button at the bottom of the box) to close the box so you can scroll over another symbol and get more information.
See these Zodiac Signs and Planet Symbols tables to start getting familiar with the symbols in your chart: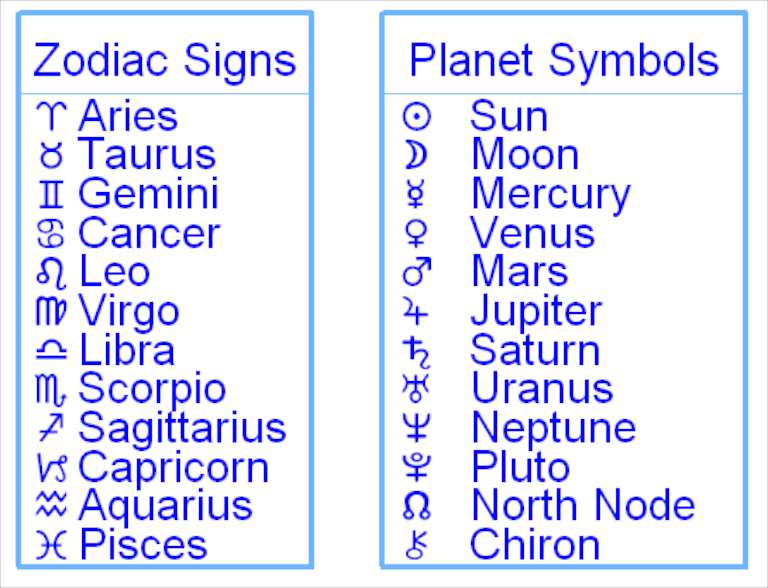 Look in your chart for the circle with a dot in it (the astrological symbol for the Sun). Now see what symbol appears next to it within the circle of your chart and then see the "Zodiac Signs" table above to see what sign your Sun occupies. You also can use these tables to see what signs the other planets occupied when you were born.
Get Your Chart Now
Enter your exact date, time, and place of birth in the birth chart calculator below to get your free birth chart right now.