Happy Taurus Time!
When the Sun leaves fiery Aries for earthy Taurus in the third week of April, it brings us the astrological month featuring Mother's Day. Taurus time also brings us May Day, the ancient, exuberant celebration of springtime marked with the Maypole dance, May Day baskets filled with flowers, and crowning of the May Queen.
Both these flower-filled holidays beautifully reflect the astrological sign Taurus, a gentle earth sign that comes as nature awakens in mid-spring and gives us grand shows of green grass, leafy trees, and colorful blossoms.
Celebrate With Mother's Day Prints And Cards
Celebrate these spring holidays now with Spring Flowers and Trees, our exquisite springtime collection of 46 fine photographic prints featuring Anne's nature images. Every image captures a special aspect of nature's beauty in spring, when new life comes forth in softly colorful flowers and flowering trees. These vibrant works of art make perfect Mother's Day gifts.
Every image is available as a fine art print, in many sizes. Each image also comes as a 5 X 7 greeting card; you can customize any card by adding a special message inside for Mother's Day.
Photography Showcases What Taurus Loves Best: Color and Texture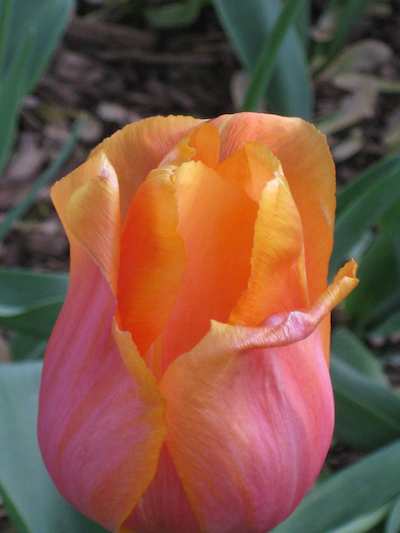 Every photograph in the Spring Flowers and Trees collection lovingly captures nature's splendor during Taurus time. Ruled by Venus, the planet named after the goddess of love and beauty, Taurus helps us enjoy the pleasures of our material world through our senses–especially color and texture.
Gazing at Orange and Pink Tulip immediately harmonizes you with Taurus's energy: this photograph showcases the petals' bright pink and warm orange and captures their paper-like texture. Through their rich texture and color, you can enjoy two qualities strongly associated with the tactile, pleasure-seeking sign of the Bull.
Seeing Field of Double Daffodils With Trees (shown above) will align you with Taurus's early morning energy, when softly golden sunshine showed this impressive field of double daffodils—so called because of their extra petals—to best advantage. The daffodils create a yellow sea, out of which rise trees—anchors in the flow…
With White Magnolia Flower I, you'll see how the promise of flower buds comes to full fruition with this fully blooming white magnolia flower. This photograph was taken on a May Day morning to celebrate nature's cool yet sunny beauty in mid-spring, when the Sun moves through the astrological sign Taurus.
Enjoy early May light, color, and energy with Crabapple Buds About to Bloom, which shows a single spray of crabapple buds in an unusually clear springtime light, highlighted against a painterly, blurred background. One bud, at top, has changed from red to pink, nearly ready to open. The background's softness, the subject, and the colors all harmonize well with the astrological sign Taurus, which occurs each year during late April and most of May.
And enjoy early spring beauty and mystery with Floating Redbud Blossoms, which shows a redbud tree that sits in deep shadow, with branches and trunk that appear black. In front of this dark backdrop, the redbud flowers appear to float, as if by magic.
Let Art Help You Harmonize Easily, Beautifully, with Springtime Taurus Energies
Just like astrology, art speaks to us in a vibrant language of colors and symbols. You can harmonize with nature and the current earthy Taurus energy, easily and beautifully, with the special images featured here. Go to our fine art photography gallery now to see all 46 images in this new Spring Flowers and Trees collection.
Wishing you a happy Taurus time, pleasant celebrations on Mother's Day, and a beautiful and inspiring springtime!