Singer and Gemini Rosemary Clooney scored a monster hit in 1951 with "Come On-A My House," which hit the Billboard charts and stayed at no. 1 for eight weeks. Written in 1939 by cousins Ross Bagdasarian (an Aquarian who later gained fame as David Seville when he invented, voiced, and recorded Alvin and the Chipmunks) and William Saroyan (a Virgo who won both a Pulitzer Prize for drama and an Academy Award for adapting one of his novels for film), the song reflects their experiences growing up as the children of Armenian immigrants in Fresno, California.
Astrology May 2014 gives us all a remarkable opportunity to "come on-a my house" with Venus and Mars, as each planet visits the other's cosmic house and turns things upside down with their passionate energies. Adding to the intensity, these planets will be sitting exactly opposite each other in the sky. By the time this joint house party ends after nearly four weeks, we'll all know much more about how the other half lives and how to juggle passion and pleasure, self and other, independence and interdependence.
It's a Party, and You're Invited: May 2 – 28
Key Dates (based on U.S. central daylight time)
May 2      Venus enters Aries, kicking off the party
May 11     Venus and Mars in exact opposition, with Venus at 9 degrees Aries and Mars at 9 degrees Libra
May 28    Venus leaves Aries for Taurus, putting out the lights on this high-intensity party
The party starts May 2, when Venus leaves Pisces for fiery Aries, ruled by Mars; it remains there until May 28. Mars has been waiting for this tryst for months, having occupied airy Libra, ruled by Venus, since December 7, 2013; it remains in that sign until July 25.
Location: Aries and Libra
When two planets occupy each other's signs, astrology refers to them as being in "mutual reception." In other words, each planet receives the other's energies, and both planets are highlighted and strengthened during such a period. At times, it feels as if the planets stand in for each other or even impersonate one another, mixing energies and merging households to keep the party going.
Traditionally, Mars is associated with men, with its planetary symbol often used to indicate male gender. This hot, red planet also carries associations with drive, energy, courage, fire, and competition. Traditionally, Venus is associated with women, with its planetary symbol often used to indicate female gender. This bright, green planet also carries associations with peace, love, beauty, pleasure, and relationships.
Aries, the sign governed by Mars, brings feelings of optimism, impulsiveness, decisiveness, and desire for new beginnings. It's associated with the zodiac's first house, which concerns our individuality, personality, independence, appearance, and physical body. Libra, one of the signs governed by Venus, brings feelings of balance, charm, affection, and a desire for the arts. It's associated with the zodiac's seventh house, which concerns our relationships, partnerships (especially marriage), interdependence, cooperation, and social life.
Girls at One House, Boys at the Other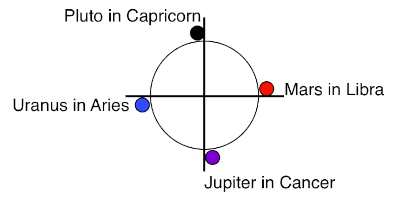 During this month's Venus-Mars mutual reception, the planets involved carry even more power because the signs they occupy—Aries and Libra—are exactly opposite each other on the zodiac. An opposition can bring stress as well as challenges and other obstacles on the outer plane, as if the world around us carries a mirror to show us just how different (and yet how irritatingly similar) other people, places, and things appear to us.
Further highlighting this arrangement, Venus and Mars will amplify the grand cross (or grand square) formation in cardinal signs that has stirred up massive energies and ushered in dramatic changes over recent months, especially last month.
This formation involves Uranus in Aries, Jupiter in Cancer, Mars in Libra, and Pluto in Capricorn. Venus entering Aries on May 2 adds more fuel to the cosmic fire.
With Venus in Aries for nearly all of May, fully 50% of astrology's main planets will occupy action-oriented cardinal signs this month. (See the article Astrology April 2014: Ready for Your Breakthrough? from April 10 for more details.)
Other High Energy Dates 
As a result, the Venus-Mars faceoff has the potential to create aftershocks to whatever changes and intense feelings we experienced lately, especially in April. In addition, the swiftly moving Moon will pass through all four cardinal signs, as it does each month, amping up the emotional volume. Here are some dates to watch during May (dates based on U.S. central daylight time):
May 3 – 4
Moon in Cancer squares Mars, Venus, and Uranus; conjoins Jupiter; opposes Pluto
May 10 – 11
Moon in Libra meets up with Mars in that sign; squares Jupiter and Pluto; opposes Venus and Uranus
Venus in Aries opposes Mars in Libra
May 14  
Venus in Aries squares Pluto in Capricorn
Full Moon in Scorpio
May 15          
Venus in Aries meets up with Uranus, also in Aries
May 17 – 18  
Moon in Capricorn meets up with Pluto in Capricorn; squares Mars in Libra and Venus and Uranus in Aries; opposes Jupiter in Cancer
Venus squares Jupiter
May 19          
Mars in Libra ends its retrograde, shifting the energies from Venus's dominance and toward balance between Venus and Mars
May 24 – 25 
Moon in Aries meets up with Uranus and Venus; squares Jupiter and Pluto; opposes Mars
May 27          
Venus in Aries meets up with the South Node, opposes the North Node in Libra
What to Wear
You'll need to pack a bit more than usual, so you're prepared for an entire month. Also, Venus will dominate the first part of the month because the Sun will occupy Venus-ruled Taurus until May 20, Mercury will occupy Taurus until May 7, and Mars will be retrograde (and therefore in a weakened state) until May 19. The energies will shift toward greater balance between Venus and Mars toward the end of the month, however, when Mars ends its retrograde on the 19th and the Sun leaves Taurus on May 20.
Here are some ideas on what to pack:
Pretty party clothes: with so much Venus energy, you'll want to look your best
Comfortable clothes: with plenty of Taurus energy, you'll want comfort along with style
Pajamas: with the Moon so sensitive because of the continuing cardinal grand cross, you may need extra rest
Play clothes: despite the intensities, this month IS a party—at two houses, no less. So come prepared to kick back, kick up your heels, and play as much as possible.
Something wacky, unique, or rebellious: Uranus in Aries gives us a wild card, asking us to show our true colors. So bring something that reflects Uranian urges toward freedom, uniqueness, and electric excitement.
Hot date outfit: Both Venus and Mars are known for passion and pleasures, and the Sun's tour of Taurus makes sensual fabrics and earthy experiences more tempting. Make the most of this month with something sexy.
Work clothes, athletic clothes: By the time Mars turns direct May 19, you'll have a clearer idea of what you want, and you'll have a high desire to go after it. So bring your work clothes—or even athletic clothes, if you'll be in competition to secure your desires.
What to Bring
With Venus dominating the early part of this month, bring some flowers to honor Venus's springtime sign, Taurus. Also carry plenty of forgiveness, to honor Venus's diplomatic air sign, Libra.
Also helpful to have on hand: an open mind, a willingness to feel, a receptiveness to new pleasures, and an ability to walk in others' shoes and see things through their eyes. While you're at it, pack a mask or two so you can try on new identities, and bring a healthy dose of compassion for yourself and all others during this tumultuous month.
Mind Your Manners and Have A Great Time!
So let yourself hear the call from both Venus and Mars to "come on-a my house" this month. Stop in at both locales, Aries and Libra, to enjoy the most interesting party you've attended in a long time.
If you pay attention to Venus, you can enjoy the many sweetnesses and treats Rosemary Clooney sang of in her 1951 Billboard hit: special foods, presents, relationships, even long-term unions through marriage and holidays with loved ones. Welcoming those into your life will require the ability to receive with pleasure.
Yet you also need to pay attention to Mars so you can balance receiving with giving. This planet's special domain is taking action, so take note of times you can give to others, and you'll enjoy the privilege of seeing others receive and honor your generosity.
As you balance Venus's power to attract with Mars's power to act, you'll know just how to behave at all times. As a result, it'll be a breeze for you to "mind your manners" and finesse any social situation with ease.
Enjoy the party!